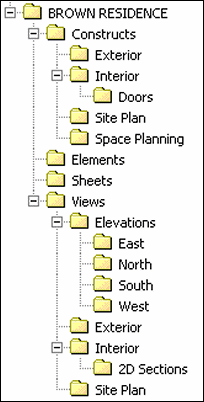 Brown Residence Files:
The zip files below all contain files relating to the 'Brown Residence'. Before unzipping the files,
create a folder on your computer named 'Brown Residence' and then unzip the files into it. Several subfolders will be created when the files are unzipped so the file structure will be as shown.
PLEASE NOTE: Not all subfolders will contain files.
Download 158503195X_BrownRes1.ZIP file Elements; Sheets; Views
(60 files - 3 Mb)

Download 158503195X_BrownRes2. ZIP file
Constructs: Exterior
(43 files - 2.6 Mb)

Download 158503195X_BrownRes3.ZIP file Constructs: Interior; Site Plan; Space Planning
(46 files - 3 Mb)